How To Book Your Repair
Here we will go over all you need to know about how our service works, from placing an order on our site, to receiving your repaired device back safely in your hands. You can also place an order over the phone with us if you prefer to speak to one of our friendly customer service team members. 
Booking in your repair on our website
Our site is set out like any other shopping website so to put it briefly, you need to find the repair you require from the menu, add it to your cart then checkout as normal. Here we will use an example of a PS4 HDMI port repair - our most common repair that we carry out to show you step by step how to book a repair with us. 
If using a mobile, please tap on the grey box with MENU on it and the navigation is the same as detailed below. 
Step 1 - From the main menu - select the type of repair from Game Console Repair, Apple Repair or Samsung Repair. As we are booking in a PS4 for HDMI repair we will choose Game Console Repair, go to "PS4 Playstation 4 Repair" and click on it.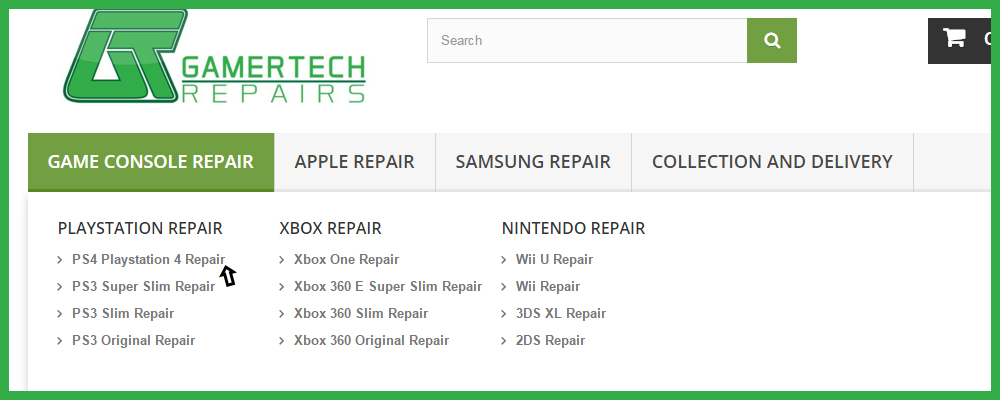 Step 2 - You will now be presented with all the repairs we do for the PS4. We now scroll down to the HDMI Port Replacement option and click on it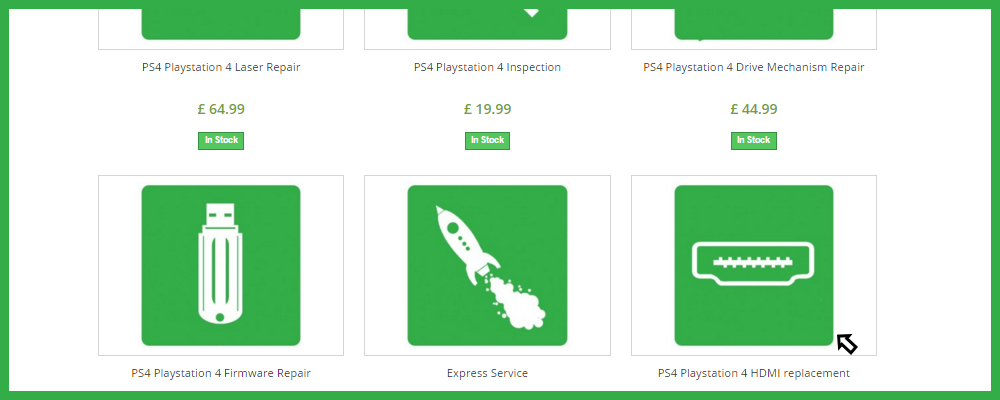 Step 3 - Now we are presented with the specific repair page that we need. We have a full description of the fault and a brief overview of the repair service so we can be sure we are selecting the right repair option. Once we are confident we have the right repair we need, we click add to cart to start booking the PS4 in for repair.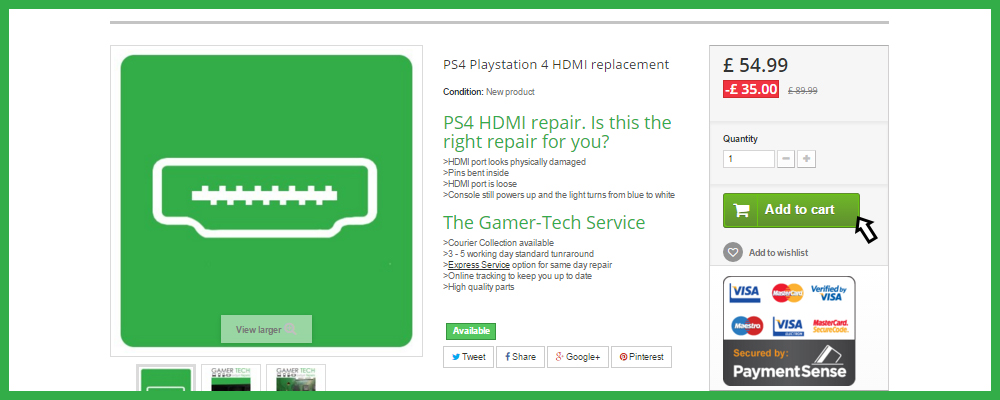 Step 4 - Go to checkout
Just like all online shops, we require certain details in order to process your repair order. Here we will go through the steps of the checkout process.
1 - You are first presented with a summary of your order for your reference.
2 - You can then proceed to create an account on our site. This will give you a login where you can track your order status at any time. 
3 - Enter your address information. The "Delivery Address" will be used to for both collection and delivery. More on the collection options on the next step... You may also use the comments box for any additional information you feel is helpful. For example if your address is hard to find or there is a code to enter an apartment complex. 
4 - Shipping selection. Here you are presented with 3 options.
The first is "Send in yourself". Some of our customers prefer to use their own courier or Royal Mail to send their device to us. If you would like to do this, select this option. Please note that you are wholly responsible for which carrier you choose, and how you pack your device. We can not be held liable for any of your own courier issues being damages or loss. 
The second option is "Ship to Shop". With this option we will send you a prepaid label via email for use with DPD couriers. They have a network of shops where you can drop the device off at where DPD will then collect from. To find your nearest shop use this link DPD Shop Finder . You do have to use your own packaging with this service. We only need the device - no cables or controllers. If you dont have a printer, we can print and post a label out to you. Please request this in the comment box on the address section of checkout. 
The third option is the DPD "Swap It" service. We will send DPD to your door within a one hour time frame and a box to pack the device with. Again we only need the device - no cables or controllers. The driver will have the label for the return and security seals for the box.
5 - Proceed to the secure payment page and complete the payment. You'll be taken to the confirmation page and your order has been placed
What Happens Next
The first thing to do is check your inbox. You should have received a few emails from our site. The first is confirmation of your account creation on our site. You will also receive an order confirmation which explains everything you need to do. It also has a VAT receipt attached to it in PDF format for your records. It is important that you get the order confirmation. If you can't find it in your inbox please be sure to check your spam or junk folder. This may require logging in to your email account online as junk emails are not normally pushed to tablets or phones. If you cannot find the confirmation, please get in touch with us. 

Sending the device to us yourself? Please ensure to pack the device well, include a print out of your order confirmation or copy the details down and include it with your parcel so we know whose it is when we receive it. 
If you have chosen one of our collection options as opposed to sending your device to us yourself, we will process the collection order for you.

If you have opted for the ship to shop option, we will email you the shipping label from the DPD system. You then pack the device and take it to any DPD pick up shop. When you take it to the shop, they will scan the label. They will also scan a "Thank you for your Parcel" business card receipt and hand that back to you as proof of dropping it off. From then on, you can track everything online, and you will get SMS updates if you have provided your mobile number. 
A sample of the label we send.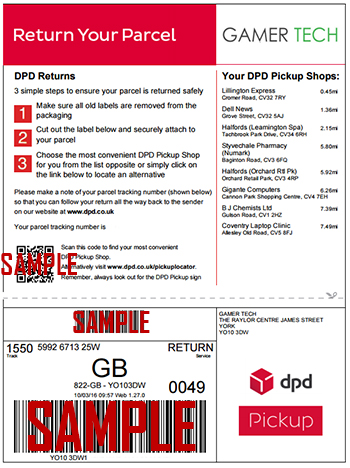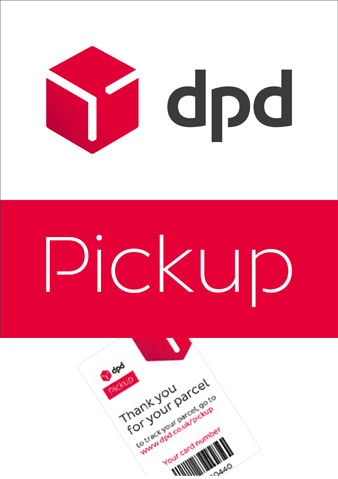 If you have opted for the Swap It collection option, and the order was placed before 4PM on a working day, we will prepare the box in our workshop for you. DPD will collect the box from us between 4pm and 5pm. You will receive the tracking information the same evening. The following working day morning you will receive another message from DPD with a one hour slot for there arrival to your specified address. When the driver arrives, all you have to have ready for them is the device itself. No cables or controllers. Also please do not pack the device in your own box as it may not fit in the box we have sent. The box is really sturdy and is packed with foam packaging so your device will be well protected during transit.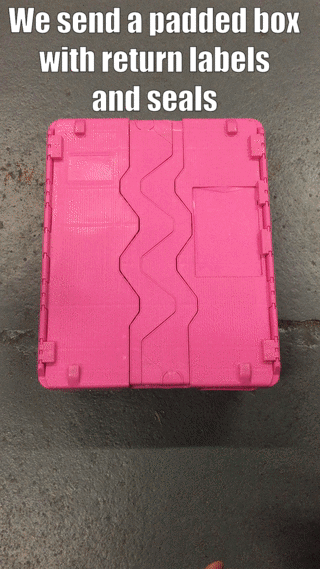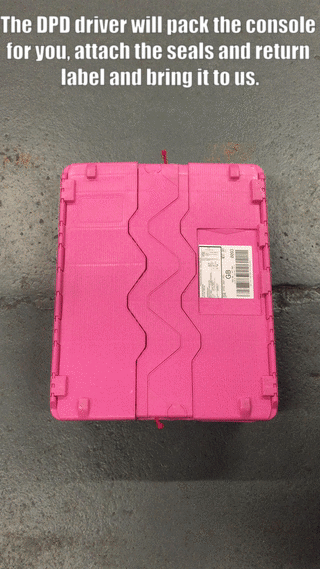 While your device is with us...
We will provide status updates which you can view in your account, and we will send accompanying emails too. 

First we will mark your device as received

Then when we have worked on the device we will change the status to 

If we need to speak to you about the repair, we will email you and use the status

Once we have completed the repair and testing of your device we will change the status to 


With this status we ask for you to reply to us with authorisation to send the device back to you and confirm the address as many of our customers have a change of address.
Once confirmed the status is changed to 

which means it is packed up in our warehouse ready for DPD to come and collect it from us. This normally happens around 5PM at which point the status will change to




Dispatch back to you
DPD will email you the evening we have shipped your device with your tracking information and on the morning of the delivery, DPD will confirm a one hour slot for you so you don't have to wait around all day for them. If the hour slot provided is inconvenient, or you want to change the delivery, DPD give you a number of what they call "In Flight" options to help provide a successful delivery. These options are all actionable by you via DPD's tracking email. You can authorise the following:


1 - Specify a neighbour to take the parcel delivery for you
2 - Leave the parcel in a specified safe place on your property
3 - Take the parcel to a local pick up shop. These are normally convenience shops, pharmacies or Halfords stores that you can then collect from
4 - Change the address - they may ask for extra payment for this if the new address is far from the original.
5 - Change the delivery date.
6 - Collect from the DPD depot
7 - Provide additional delivery instructions. 
Deliveries are on a working day only. Saturday and Sunday delivery is available at an additional cost. Please ask for the latest price as we just pass the cost from DPD straight to you.
Once you receive your device - 
Please open the box and inspect it as soon as possible. Please check over the device and make sure you are happy with the repair. As they have gone through DPD's system and on the back of 2 vans and possibly 2 arctics, a very very small percentage of units can get a knock in transit. If this did happen we would like to action a return straight away so please let us know as soon as possible. 

After you have checked over your device please also retain the warranty slip that is included in your box. The length of warranty will be confirmed on it. 

We will also have applied our own, individually numbered warranty seal to prevent any fraudulent warranty claims. If you have any problems at all with the device after our repair we will do everything possible to put the problem right again so please do not take the warranty seal off, and get in touch with us where we can organise a warranty return. Less than 2% of all our repairs come back to us so we are confident that you will not have to worry about this happening.
If you have any problems at all -
Please get in touch. We have online chat (bottom right of the site) operational during office hours. We have email support, you can contact us on the contact us page and we are also at the end of the phone during office hours. We love helping people - it's what we do so please feel free to get in touch.